While reading
F yeah lolita's
corset article, she mentioned Timeless Trends having affordable and amazing corsets. I always thought I would have to spend 500+ dollars on a good corset. 99 dollars for an under bust?? I'm in! The one I actually bought was for about 75 dollars because it was on clearance. So it was an amazing deal.
To break it down my experience with
Timeless Trends
. I ordered
this
corset which I fell in love with and on clearance!
Communication:
5/5
They have great customer service and are fast at responding. I paid through paypal and actually took a couple days to send the payment. This is something I don't normally do but we all tend to get busy and forget things some time. This was one hah hah. Well during the two days I placed the order and paid it they apparently ran out of the corset in my size. I was quickly e-mailed about the situation; I was told they have
this
corset in my size and are willing to ship it out immediately. I was a little worried because it was the full price and asked if I was supposed to send more money for it if I wanted it. They quickly replied that I would get it for the same price as the other! I was so glad and agreed to take that one instead until they e-mailed me back saying they miscounted stock and actually do have the original corset in my size, hah hah.
Shipping:
3/5
I had a huge problem with shipping but I think the problem was more with USPS than Timeless Trends. They shipped out the package very fast and got to my city fast as well. Unfortunately the package sat at the post office for over a week. I visited the tracking page regularly and got these notices:
"Sorting Complete"
"Out For delivery"
"Sorting Complete"
"Package information not updated"
Ummm…. What? It sat in that last update for about 4 days. I even sent a complaint and an inquire about just picking it up at the post office. I thought since it was the week of Valentines they had a delay from all the cards. Nope, comes Tuesday it still is under that status. Finally I get a call at work from the post office at about 4:30 about picking up my package. Excited, I drove over to the post office only to see the place closed at 3. UMMMMM…. WHAT!? I anxiously waited for the next day and drove down there in the morning to FINALLY receive my package; the guy working there was confused about my situation but handed over my package. YES FINALLY! I had my corset!
Quality
5/5
They packed the corset very nicely with packing peanuts; it was folded neatly and rapped in its lacing. Along with it they gave me their calendar
They sell on the site
.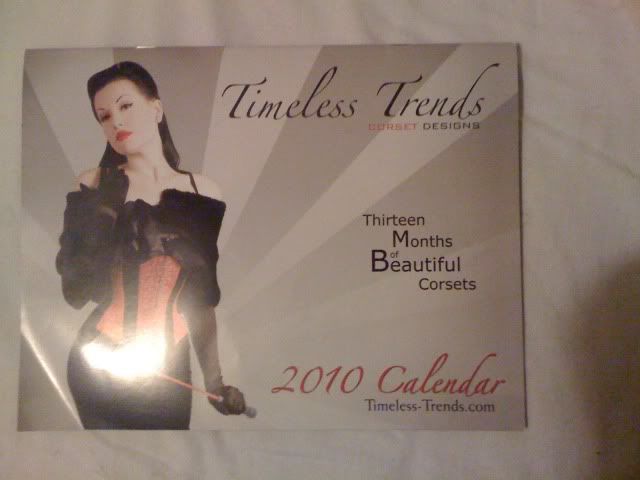 I love it but I feel awkward for having women in fetish type outfits on my wall XD I plan on giving it to one of my guy friends, they'll love me for it.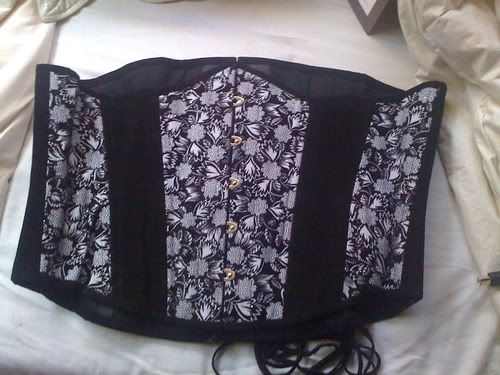 It's very beautiful and is luxurious velvet; there are actually little bits of glitter pieces on it as well. It has a small shimmer in some places. It does lace up in the back like a traditional corset and took me about 3 tried to lace it right. They tell you on the website how to put it on and tighten it but I'm a visual learner and I looked it up online. It fits very comfortably and the boning on it is steel! This is heavy duty Victorian quality!
I had to take the photo on my webcam, no one in the house as willing to take a photo of my in a corset for the internet, go figure…. It does push your boobs up; my already dominant boobs are BAM! In your face! I absolutely love it though; I wore it to classes today and had very little discomfort. I say very little because it pushes against your bladder so after one drink I was running to the restroom hah hah.
I do recommend them; any lady thinking of getting a corset should defiantly try them!
Current Mood:

refreshed
Current Music: NLO 514: Crossing Borders